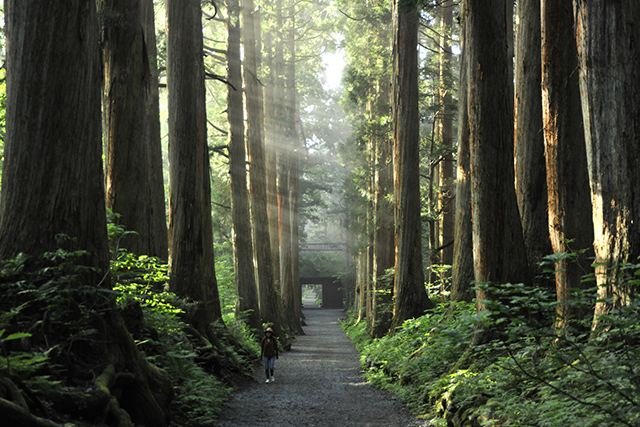 Mount Togakushi is a sacred mountain, said to have taken its current shape when Amano-Iwato, the Cave of the Sun Goddess, fell to Earth in ancient times of myth. At its base lies Togakushi Shrine, which consists of five shrines: Okusha, Chusha, Hokosha, Kuzuryusha, and Hinomikosha In the Heian Period, this place became known as a training hall for the Shugendo faith, and in the Kamakura Period, it became renowned as a sacred ground among the likes of Mount Koya and Mount Hiei, a history which carries on today.
Walk along the Togakushi Kodo Road and worship at the five shrines of Togakushi
Hokosha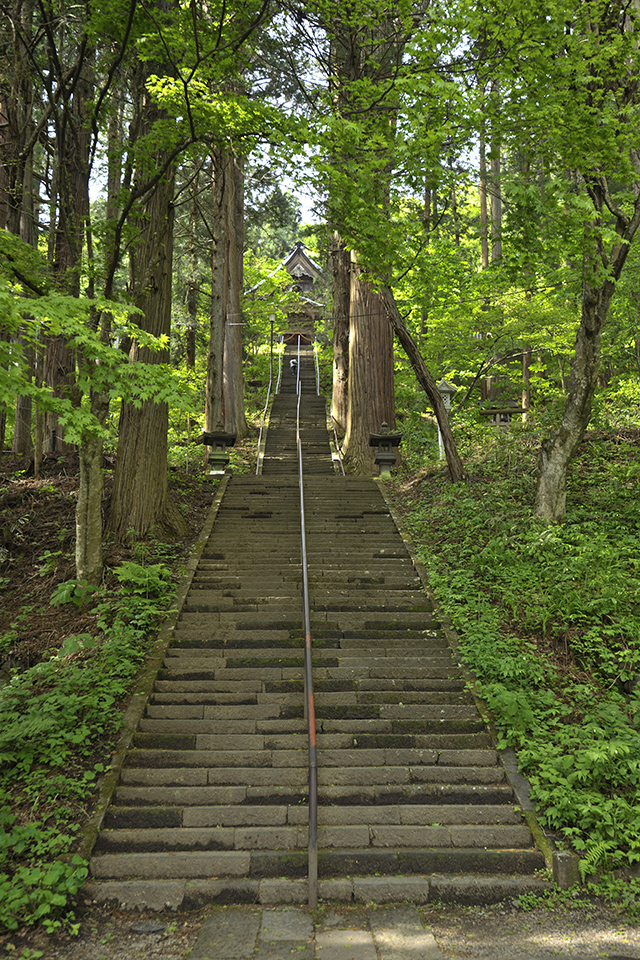 The starting point for our tour of the five shrines is the lower shrine, Hokosha. From the parking lot, we head into a stand of ancient cedar, and climb over 270 stone steps, taking us to the oldest existing building of the solemn Togakushi Shrine. Its virtuous kami (deity) is said to preside over new fields of study, skillful needlework, and safe birth, while protecting children.
Hinomikosha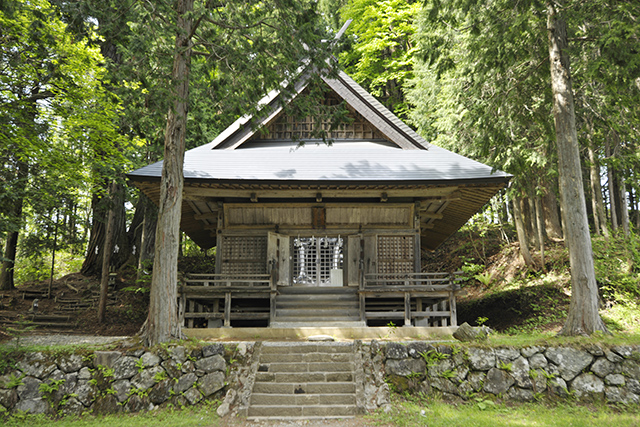 About fifteen minutes walking along the Togakushi old road, also known as "kanmichi" (path of the deities), will take you to the Hinomikosha shrine. The goddess Ame-no-uzume no Mikoto, who is said to have danced before the Cave of the Sun Goddess, is enshrined here and worshipped as a deity of skillful performing arts, marriage, and fire prevention.
Chusha (Inner Shrine)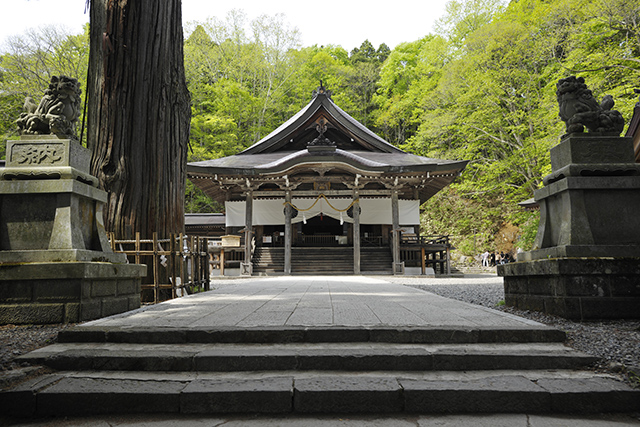 Sanbon Sugi (Three Cedar Trees)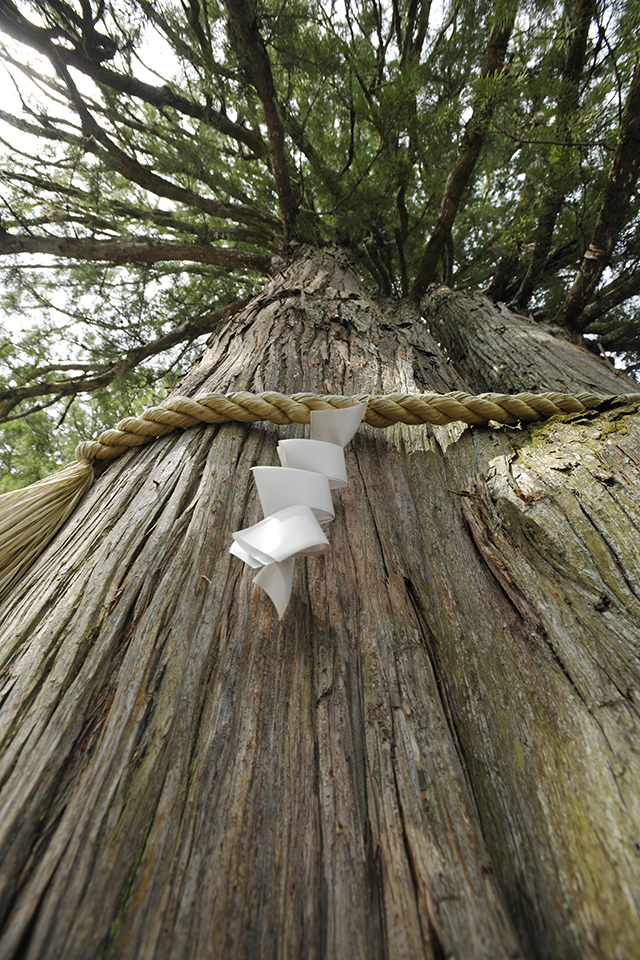 From the Hinomikosha, it is about a fifteen minute walk to reach Chusha (the inner shrine), where pilgrims are greeted by three magnificent cedar trees over 800 years old. The shrine grounds contain the Togakushi Shrine office as well as the Seiryuden, a treasure hall which exhibits historical materials related to Togakushi beliefs. Pilgrim's lodgings line the perimeter of the Hokosha and Chusha shrines, forming an area that is soon planned to be designated as an important preservation district of historical buildings.
Main Shrine Gate/Cedar-lined Approach to Okusha Shrine​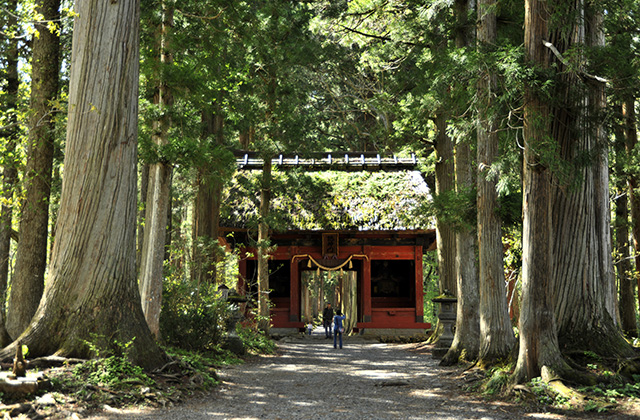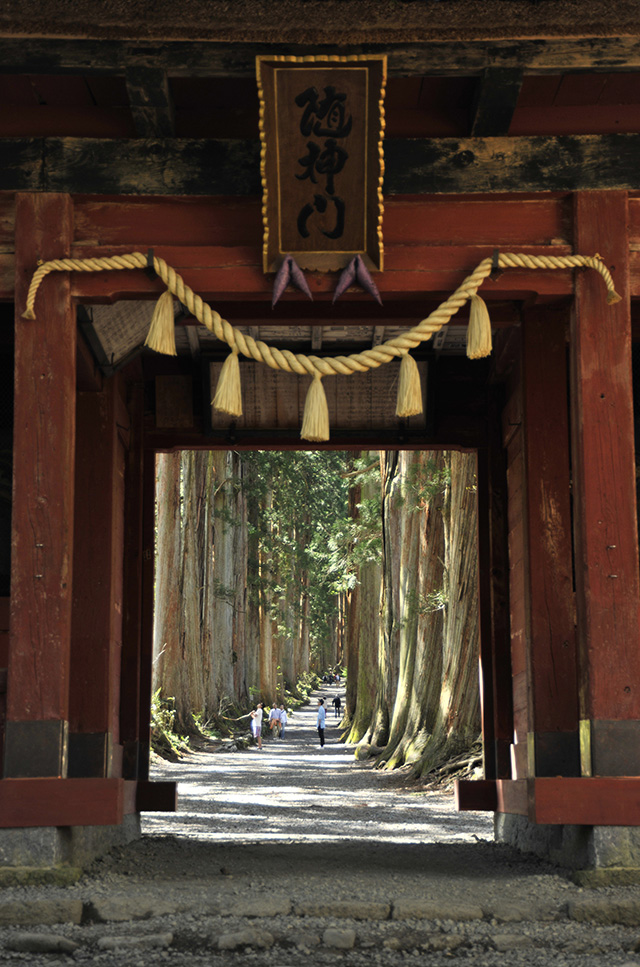 From the Chusha shrine, it is about thirty minutes to reach the massive torii gates of the approach to Okusha shrine, a trip which passes historical sites such as the ruins of the Nyonindo temple and Bikuniishi. Stepping through the magnificent torii gates, it is about another kilometer walk until the thatch roofs and vermillion lacquer of the main shrine gate come into view. Once, Nio-zo (deva guardians) were enshrined at this gate.
Okusha (Rear Shrine)/Kuzuryusha (Shrine of the Nine-Headed Dragon)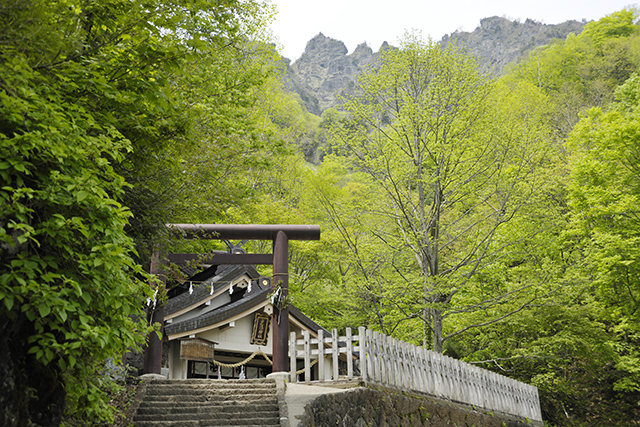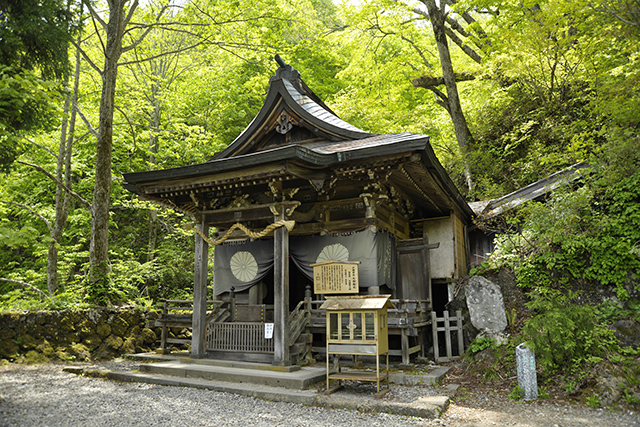 Beyond the main shrine gate are rows of cedar trees more than 400 years old. A break in the cedar line opens to an approach path leading uphill. From here, the Okusha and Kuzuryusha shrines come into sight. It takes about twenty minutes to reach here from the main gates. Said to have been originally opened as a training hall by academic pilgrims in year 2 of the Kashou Era (849 AD), Okusha is the head shrine of Togakushi. To the left of the main shrine is Kuzuryusha Shrine. The enshrined deity Kuzuryu-Okami, a dragon spirit of this land. Kuzuryu-Okami is also venerated as a deity of toothaches and marriage.
Hand-made buckwheat noodles, ninjas, bamboo wares... Try Togakushi's signature hands-on cultural activities!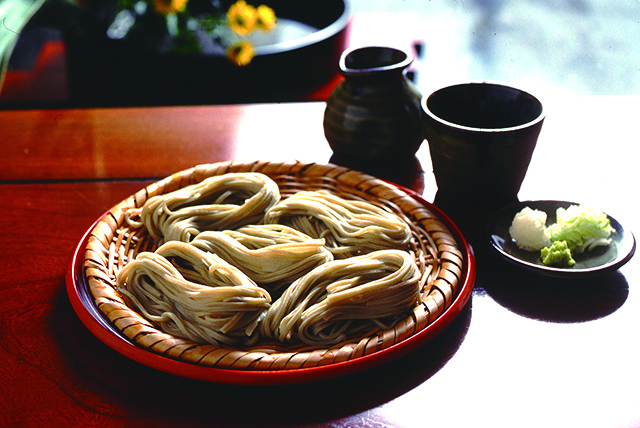 Togakushi is perhaps best known for its nationally-famous "Togakushi Soba" buckwheat noodles. This proud tradition reaches back to the Heian Period, and is characterized by the "bocchi-mori" serving style, with the noodles divided into five small portions. "Togakushi Soba Museum Tonkururin" and "Soba Deai-kan" offer noodle-making classes from April to November.
Learn about the way of the ninja... and try it yourself!
Togakushi Ninja Museum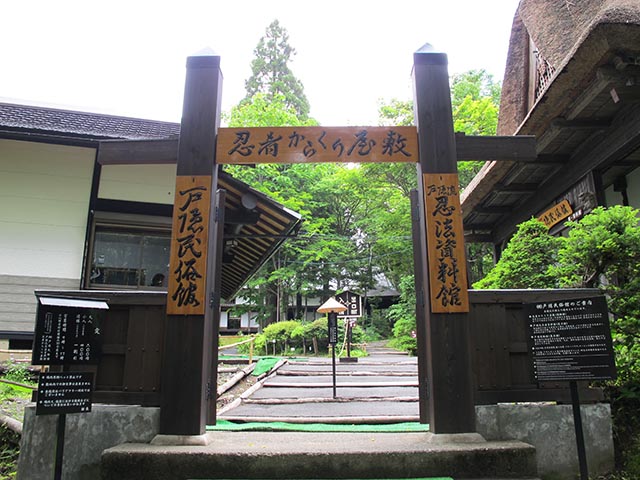 Togakushi Ninja Museum provides information about the Togakushi style of ninja martial arts, with displays including 500 pieces of ninja equipment, photo panels of 200 ninja techniques, and much more. Explore a ninja house filled with tricks and traps, and try your hand at shuriken (ninja star) throwing... great fun for adults and children alike!
Kids' Ninja Village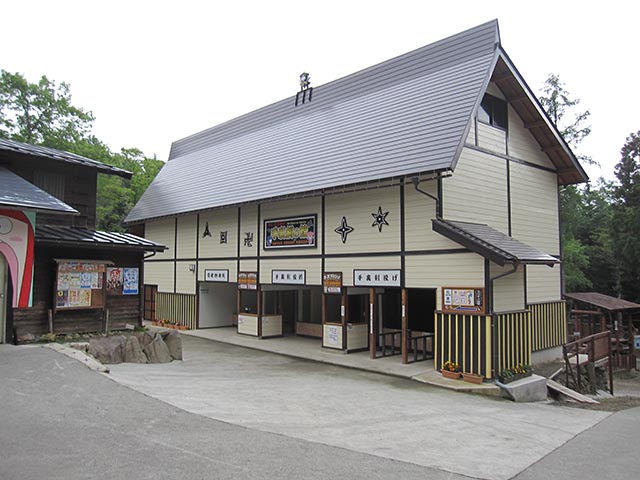 Kids' Ninja Village is a ninja-themed amusement park. Visitors can challenge a maze laden with tricks, explore a ninja house, and try their hand at shuriken (ninja star) throwing. There is also a training field where you can "practice the art" dressed in ninja garb.
Bamboo wares made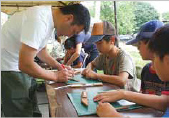 Bamboo wares made from locally-harvested "nemagari-take" bamboo are a traditional art form of Togakushi. You can try making your own at the Harayama Bamboo Ware Shop.
Togakushi is also a treasure trove of outdoor activities!
Togakushi Campsite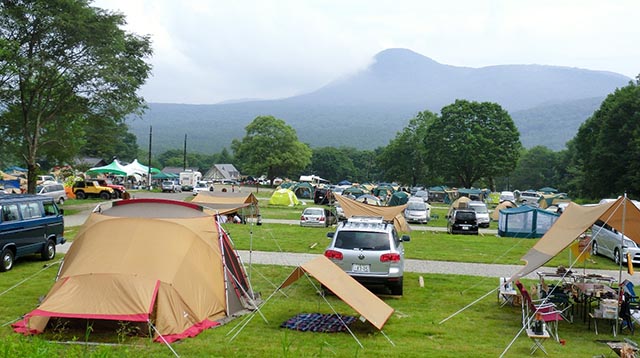 At the foot of the Togakushi mountain range lies a vast auto-camping site (open site) with a vast outdoor field providing space for over 350 cars. This area offers a great variety of outdoor activity options, such as day camping (one-day BBQ), horseback riding, an animal petting farm, river sports, fishing, and more.
Togakushi Forest Botanical Garden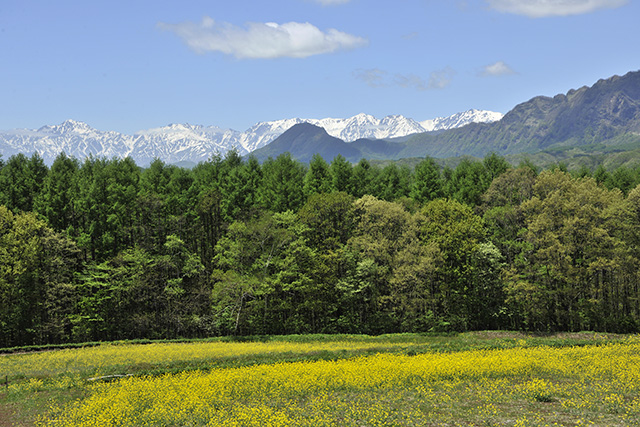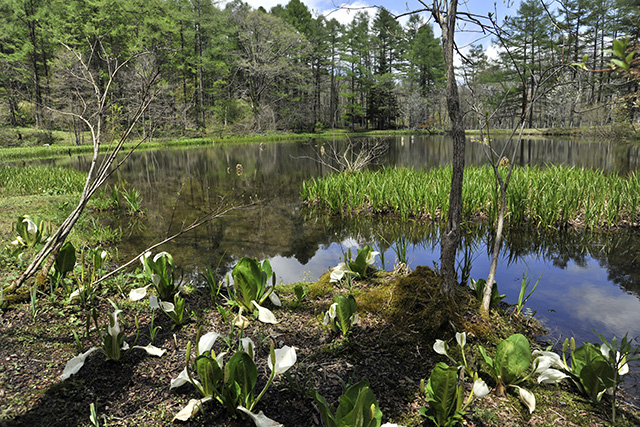 Kagami Pond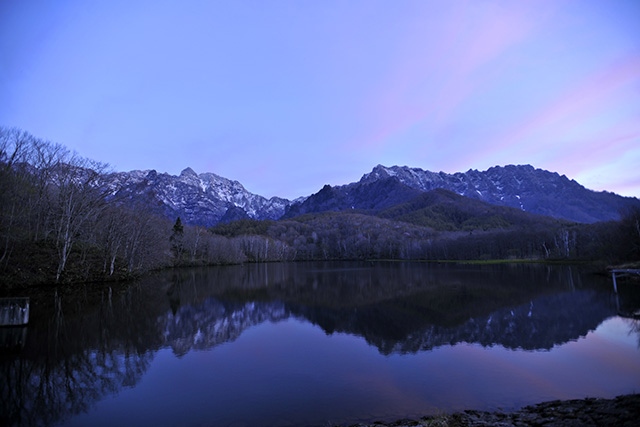 Togakushi Forest Botanical Garden offers chances to observe wildflowers and plants such as skunk cabbage, as well as wild birds. Well-maintained walking paths are often visited by beautiful fireflies in early summer. On the outskirts of the botanical garden lies "Kagami Pond" ("Mirror Pond"), which reflects the majestic Mount Togakushi and is a popular spot to take photos.
Togakushi Ski Area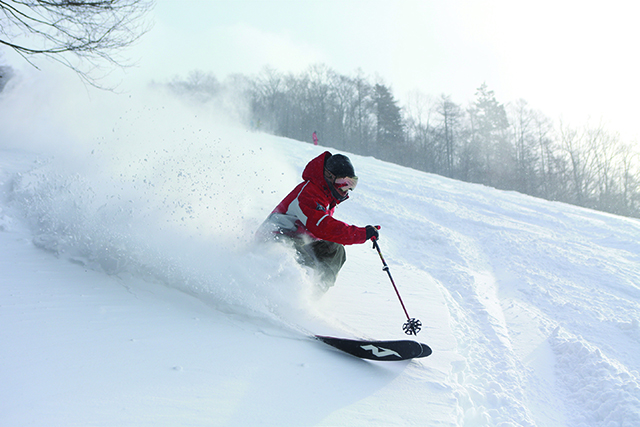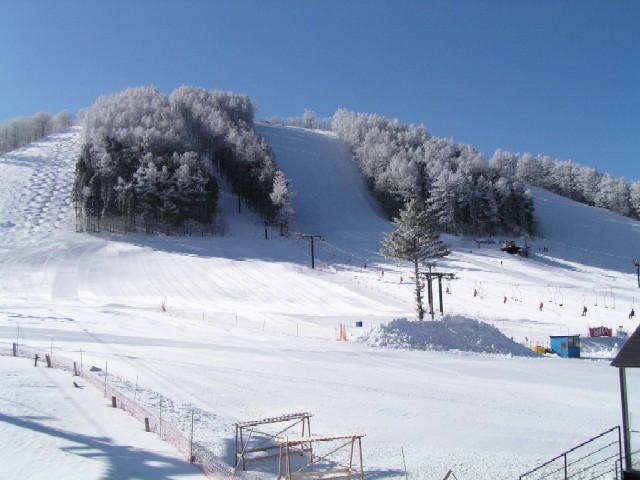 Renowned for high-quality powder snow, Togakushi Ski Area overlooks the Togakushi mountain range and northern Japanese Alps. With facilities including a freestyle park and mogul course, this ski resort offers enjoyment for all, from first-timers to top-level skiers.